Jewish Entertainment Media, Inc,
1365 38th Street,
STE 2A,
Brooklyn, NY 11218
info@stepitup123.com
201.500.STEP
Frequently asked Questions
Please read our most commonly asked questions first!
What payment methods do you accept?
We accept the following methods of payment: Visa, Mastercard, American Express, & Discover.
All these are processed via Paypal. There is no need to have a Paypal account nor log into your existing account. Simply choose the debit or credit card option and check out as a guest.
How do I know my order has been placed successfully?
We will send you an acknowledgement email on successful completion of an order on the site. This email will detail the order that you have placed and will give you an order reference number. We would advise you to keep this email safely as you will need your order reference number for any further queries which you may have.
Once your order has been shipped to you, you will receive tracking information from Paypal.
I did not receive a confirmation email
Please contact us if you do not receive an acknowledgement email and we will make sure it is not a problem with our system. Acknowledgement emails are generated and sent automatically once an order has been successfully completed.
How long will my order take to be processed?
We endeavor to process orders as quickly as possible as we know how exciting it is to get your order promptly; however, please allow one business day as a guide. Orders received before 12 PM EST generally ship the same day.
If you receive tracking confirmation on the weekend, it is because we are working overtime to process orders. It does NOT mean that your item shipped on the weekend; rather, it is an indication that we have prepared the shipment for pickup on the next business day.
How long will shipping take?
The timetables below are for the US 48 contiguous states only and refer to the transit time AFTER leaving our warehouse.
Our deluxe models ship mostly ship via Fedex Ground (refer to the timetable below). We know that you are anxious to get started, so occasionally — and at our discretion — we may upgrade your shipping method to USPS Priority Mail (parts of the East Coast and Midwest only).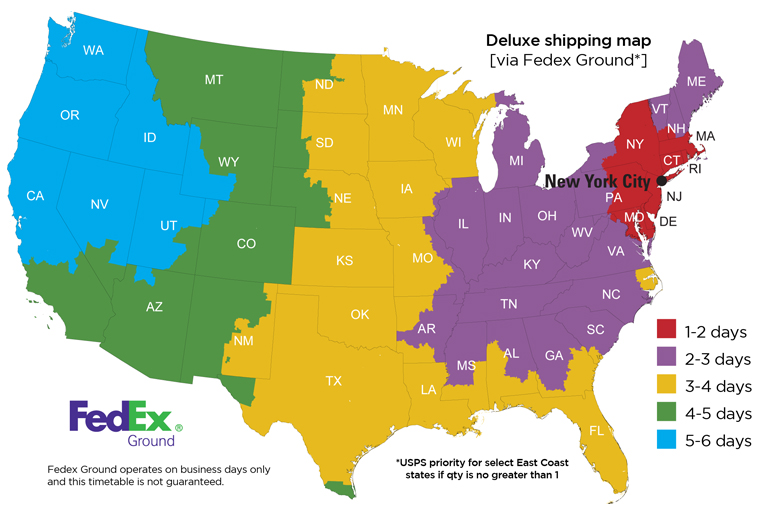 For our nonslip model, we usually ship via USPS priority mail, as we find it rather quick and reliable for small parcels (free Saturday delivery is included). Refer to the USPS priority mail chart below to determine when your item will arrive. Please note that priority mail is generally consistent but the times are not guaranteed by the postal service. If you would like to upgrade to a guaranteed service, please contact us for a quote.
All information provided herein is subject to change, as shipping rates are constantly evolving. If you wish to get a more thorough shipping quote, feel free to contact us.